anysize.org
Our bodies are wonderous things that come in many shapes and sizes. Each is pretty good at taking care of itself and letting you know what it needs and when.
The mass media and diet industries would have you believe that you should fit into their definitions of "fit" or "healthy." But 95% of dieters regain their lost weight as their bodies try to get the nutrients they need (and some regain more), and this yo-yo effect is much worse than any supposed danger caused by inability to fit into unrealistic charts and weight indexes.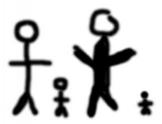 Studies indicate that maintaining an active lifestyle helps you live longer, irregardless of your size. For more information, read The Obesity Myth or other fine books in our reviews section.
For a limited time, email us your address, and receive a free hardcover diet book converted into a book safe! Free shipping for U.S. addresses; we may ask you to help cover shipping for non-U.S. addresses. I envision a day when having a diet book is so preposterous that it's a dead giveaway to thieves, but until then, please enjoy your book safe.
Remember, we gladly accept related articles, links, art, music, and other content.
Art by Luke Allis
anysize.org (c) 2005 Todd Allis. Other sites I link to have their own copyrights and usage rules. You may copy contents of this site if you ask first. Submissions to this site retain their own copyrights. Webmaster / Author / Editor: